I know that it is Wednesday, but somehow a gremlin prevented this installment of "Tutorial Tuesday" from dropping yesterday as scheduled.  Nevertheless and without much further ado, I bring you Tutorial Tuesday… on Wednesday. 
Last week I posted a sneak peek of a few pictures from an engagement shoot I did in the desert west of Phoenix.  One of the pictures, the Hitchhiker, received a fair amount of attention and was the subject of a number of email.  Most of the email wanted to know about the lighting setup.  Here is the diagram:
The Alien Bee (AB) in the 50" Apollo is just out of frame to the camera left, and I am sitting on the road just under the lower right corner of the box.  The 50" Apollo by Westcott provides fantastic soft wrap around light.  It is also built on an umbrella frame and does not need a speed ring.
 I needed some additional light on Chad and the side of the car as well.  The sun was below the horizon and out of frame to the right, but still created a bit of a warm rim light on the car and on Chad.  The AB provided a bit of front side fill as well, but they were still underexposed.  So, I plopped my Nikon SB600 across the road with a ½ cut of CTO (color temperature orange) gel to warm it up to match the setting sunlight, and zoomed it out to 85mm to help keep spill from reaching Kara (although you can still see a bit of side shadow).  You can see the harshness of this bare flash by looking at the shadows on Chad's shirt from the tie
 I underexposed the sky by 2/3 of a stop and then dialed the lights in for proper exposure of Kara and Chad, taking care not to blow out her white dress.  Although I have been happy with my Radio Popper JrX Studio triggers, which allow me to control the power of my lights in 3 different groups from right on top of the camera, I subsequently made the switch to Pocket Wizard Flex and Mini.  Nothing bad about the Radio Poppers, but the PW are more versatile and are more widely integrated by other manufactures, i.e. Sekonic meters, and the Einstein lights. 
Here are the results: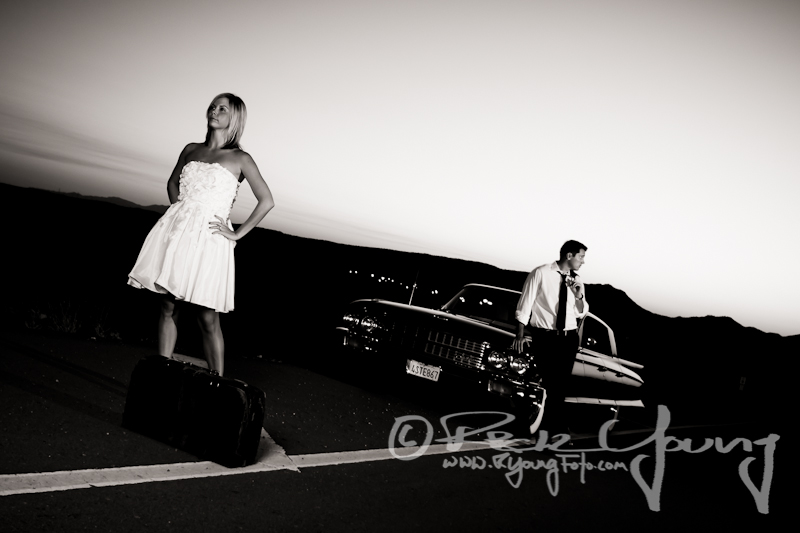 For the black and white version I applied my custom B/W preset in Lightroom and then added a touch of blue toning to the shadows (+6 saturation) and a touch of yellow toning (+6 saturation) to the highlights.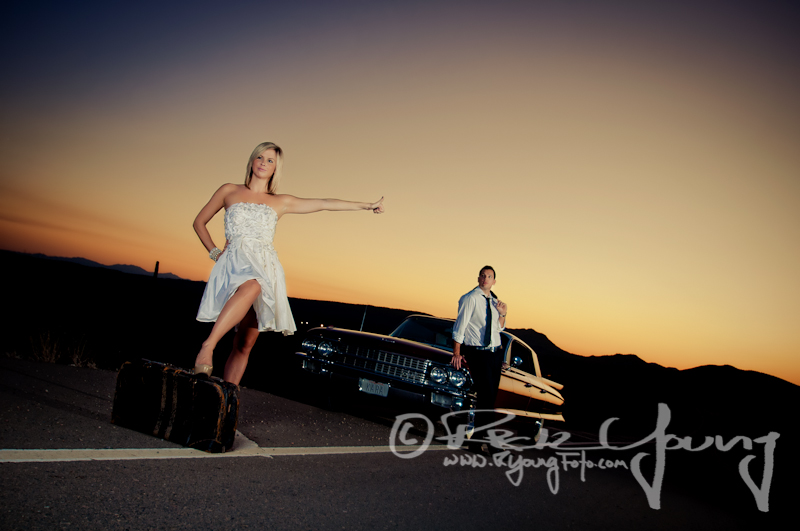 I processed the color version with Nik Color Efex 4.