I have been swamped recently with senior pictures in Scottsdale and Phoenix, but there is light at the end of the tunnel.  Hopefully the light at the end of the tunnel is not a train!
Tutorial
Speaking of tunnels, they may great places to take cool pics.  I like to use a wide angle or fisheye lens to really bring in the leading lines.  In addition, the wide angle lens really exaggerates the size of the foreground compared to the background.  What does that mean in English?  The opening of the tunnel looks miles away even though it is much closer.
However, you have to be careful with these leading lines when shooting a shot from the center of the tunnel.  Any lines must be symetrical.  To help with this, I enter "Live View" mode and turn on the grid overlay.  Using the grid lines, I make sure 1) the camera is in the dead center of the tunnel, 2) the mouth of the tunnel is in the lower third of the frame, and 3) the camera is perpendicular (90 degrees) to the tunnel mouth.  Of these, numbers 1 and 3 are the most important to achieve symetry.  Now, you can make minor corrections with the Lens Correction Filter in Photoshop, but I find it easier to spend an extra 30 seconds in the field getting it square than 10 minutes is PS.
Next, you will almost always have to shoot bracketed exposures since the outside light at the mouth of the tunnel will be at least 3 stops brighter than the interior.  You don't need to go off the deep end with the tonemapping, but using Nik HDR Efex or Photomatix, as I did here, will tame the dynamic range.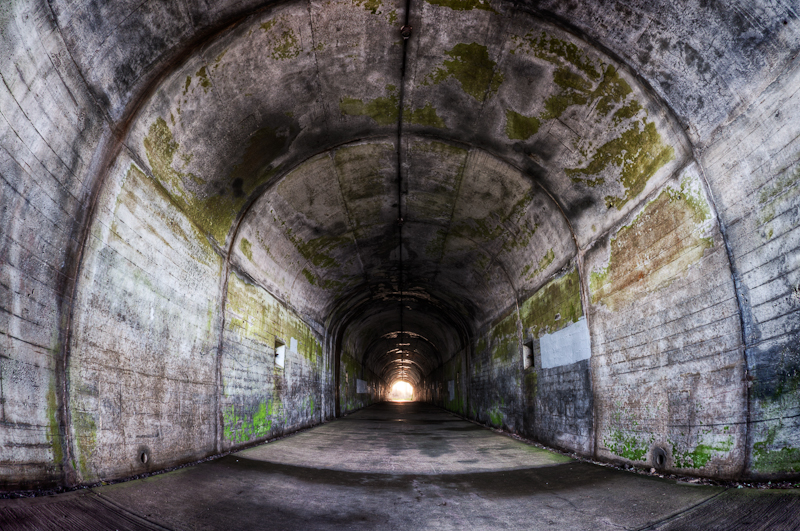 This tunnel is outside of San Francisco.  Now, go find your own tunnel and take killer pictures!