As some of you may have heard, I went on a day trip this past Saturday with a few friends and fellow photographers.  Mike Olbinski, Chris Frailey, Ken Peterson (aka some guy named Ken) all left Phoenix at 3:45am… yep, you read right 3:45 in the AM… to head toward Flagstaff.  Our first destination was the abandon town of "Two Guns", with our final stop being Arizona's best kept secret "Grand Falls".  I will do a little mini-series this week showing the sights and sharing the experiences of a loooooong Saturday. Since I have so many images I like, I think the best way to organize them is in chronological order. While this means the Grand Falls images won't be seen until later in the week… I can deal with it.
"Goodmorning Two Guns" – Two Guns lies east of Flagstaff along the I-40.  Two Guns, named after resident Henry "Two Guns" Miller, was once a bustling tourist and rest stop along the Mother Road, aka Route 66.  Like many other stops along Route 66,  it too now lies abandoned.  Well, abandoned except for the 6 semi trucks that were parked along the entry road and near the old gas station and trading post.  Since we rolled into town at aroung 6 and not wanting to disturb any sleeping truckers (and not wanting to disturb and sleeping psychotic truckers intent on selling our kidneys on the black market), we decided to explore some of the "other" areas of Two Guns first.  Afterall they also have, or should I say "had", a zoo and a campground/bed and breakfast.  We chose to hit the zoo areas first.  While you can drive it in a car, it is fairly rough with broken concrete and jagged rocks littering the road. 
This is the old Route 66 bridge crossing Canyon Diablo.  I left my 50mm on from an earlier shoot and am notoriously lazy when it comes to changing lenses (and even switching from landscape to portrait for that matter), so I shot the first few with the Nifty Fifty.  Since there wasn't much light yet, I was able to still shoot wide open and bathe the foreground with a nice bokeh (helped a touch by Focal Point to deepen the effect into the frame).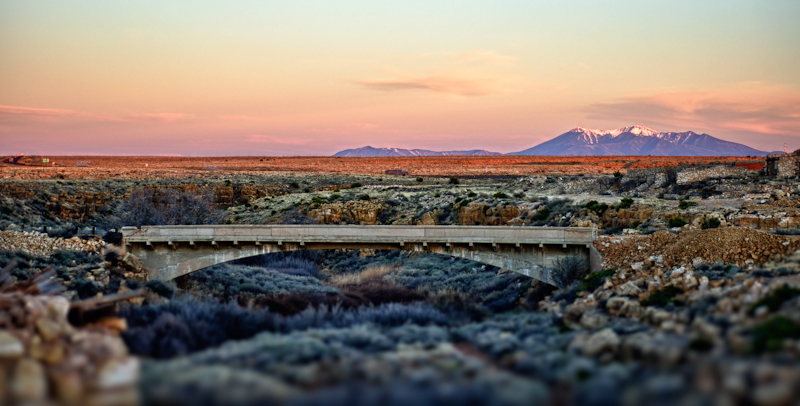 One of the first things I noticed once we got out of the car was all the barbed wire fencing. I am not sure whether this was from the original zoo or added later, but thought it might make a decent shot. I waited until the sun was just beginning to crest the horizon, stopped my aperture down to f13 to get a decent sun-burst effect and shot away.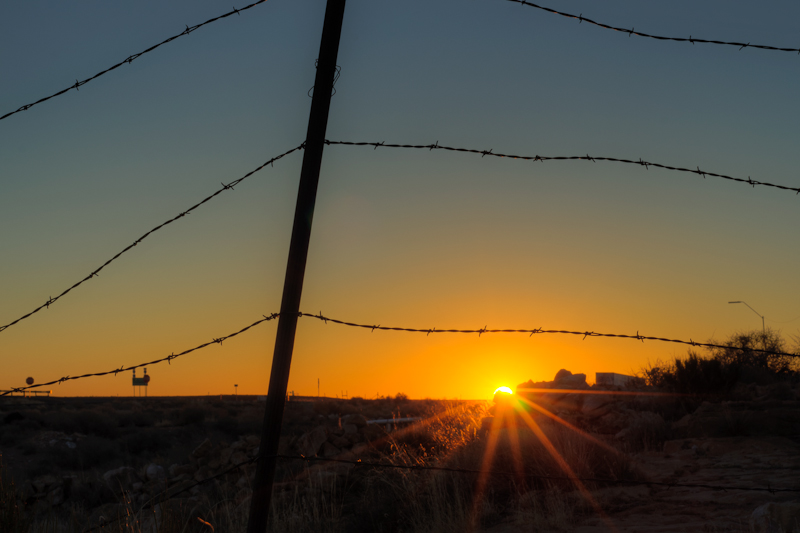 Stay tuned this week for more from the Two Guns zoo, campground complete with graffitti covered pool, and gas station; a few select shots from Winslow; and of course some killer shots from Grand Falls.
P.S. – We are also planning a second multi-day trip to hit the western leg of 66, Vegas, and a few circa 1880's mining towns later this summer.